* Discover how to add muscle mass in order to boost your confidence and attraction to athletic women by
clicking here
* Discover how to get leaner, including six-pack abs by
starting here
Since 2004 there has been one dating website that consistently everyday attracts new athletic and muscular women from around the world, ranging from their 20's to their 50's. This site has women who are either current or retired:
female bodybuilders
powerlifters
figure competitors
fitness competitors
fitness models
bikini competitors
pro athletes
You can sign up for free, but the process is a bit confusing at first so many guys miss out on the chance to set up a free profile.  Here are the steps:
Then fill in the information:
Follow the instructions on the next screen
Confirm your e-mail, etc.
Once you log into the site you then will have to set up your free profile.  You don't have to fill in much at first to start browsing around.
After you fill in as much of your profile as you wish, the question then is how do you meet muscular women.
You can start by looking at the top profiles.  The site breaks it down by age ranges (18-34, 35-44, 45 and up) as well as by athletic interest.  You can sort by those women who have indicated that they are into any of the following:
Bodybuilding
Weight training
Weightlifting
Cross training
other sports like volleyball, track, running, soccer, etc.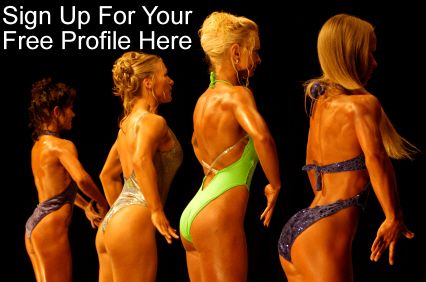 You then can do a customized search (called an "Advanced Search") where you can sort even by body type around a particular geographic area (up to 500 miles).  Type in your zip code and then you can indicate your preferences for these types of filters:
age range
body type (check the boxes for "athletic" and "pumped up")
smoker/non-smoker
drinking preferences
etc.
You even can send an "interest" message for no cost; and if anyone wishes to do so they can reach out to you via the live instant message chat for free.  Only when you wish to send actual e-mails or initiate a conversation with the chat feature will you then have to pay with a credit card.
You will get a chance to meet real muscular women on the site, so be sure to upload some good photos and write a terrific profile — especially one which separates you from other men.  If you need help on that then click this link:
Help writing a terrific online dating profile
Test out the site and really hone your profile to where beautiful women are approaching you to find out more about you.
Enjoy your time on the site.
To get a number of places to start going online to meet female bodybuilders, figure competitors, physique competitors and bikini models then
start your search here
.